8 Things you WON'T Find at 88 Creative Keys Keyboard Improvisation Workshop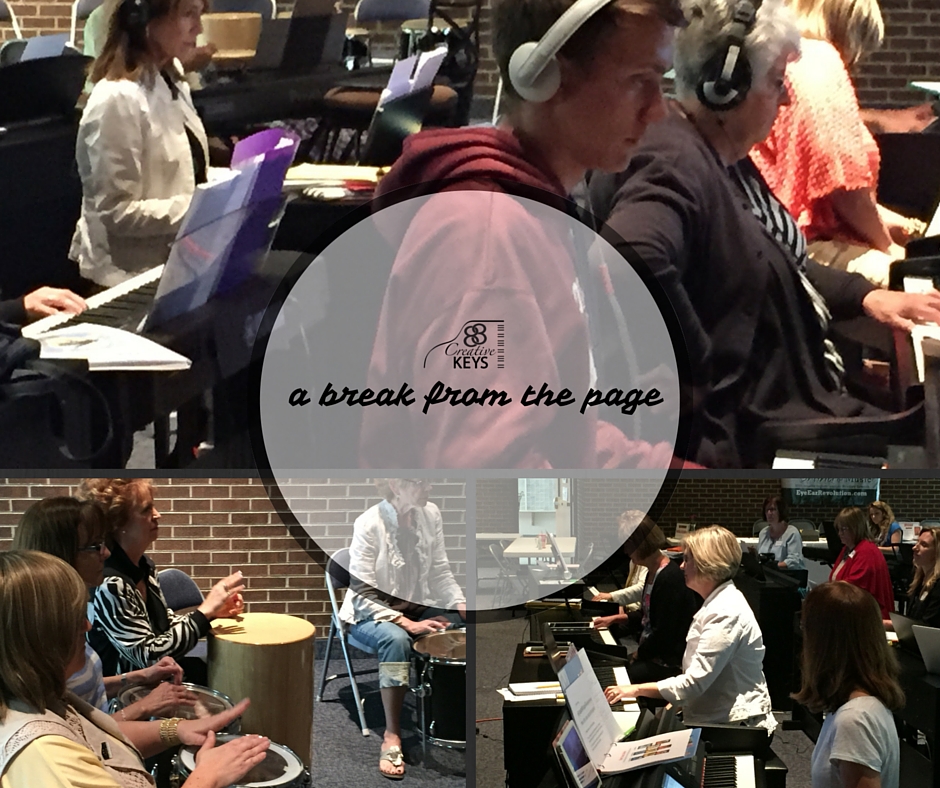 Where do you turn when you know there's music beyond the page but you can't grasp it? How do you find your creative voice when it's been under lock and key of the printed page?
What method works for developing your students' improvisation skills or that of your own?
Who offers something that allows hands-on experience to test and improve creative skills in a safe environment?
If you've been asking these questions--like I did for years--88 Creative Keys Keyboard Improvisation Workshop has the answers to them all.
How can I (Leila) be so sure? Because for four years, I, along with my colleague and improvisation specialist Bradley Sowash, have made it our priority to develop workshops and webinars that spark, develop and nurture creativity at the keys.
This summer's workshop is no different. Since our website offers all the details here, I'd rather not regurgitate the facts. I'd like to point out some things that WILL NOT BE at this summer's 88 Creative Keys Improvisation Workshop so you can see why you'll want to make attending our workshop a priority.
#1: Print Music
No other events or conferences focus exclusively on keyboard improvisation. At 88 Creative Keys, we are on a mission to help read-only pianists and teachers build creative confidence and learn to play without written music. It's a radical idea in the piano world and it's working.
Eye players read music. Ear players improvise. Both skills are essential for playing today's music. At 88 Creative Keys, we believe in comprehensive musicianship that balances the reading eye with the listening ear. Since most pianists already learn to read in private lessons, at 88 Creative Keys workshops, we focus exclusively on helping student pianists and teachers learn to improvise beyond the page. You may see some lead sheets, though.
#2: Big Crowds
At 88 Creative Keys workshops, student pianists and teachers learn to balance traditional
reading skills with improvisation in an upbeat, supportive and intimate atmosphere where everyone feels comfortable exploring new concepts. You will not get lost in the crowd. There will be nowhere to hide as we eat and play together ALL day long!
#3: Long Lectures
There are no, boring (oops) speeches here! There's just no time. Sitting at a keyboard or moving off the bench you will immerse yourself in
engaging presentations
advanced teaching technology
hands-on instruction because of the keyboard and practice rooms
large and small piano ensembles
fun activities to reinforce concepts and creativity
optional private lessons.
#4: Judgment
As you unlock your creative voice, it can be unnerving and challenging. In the music world, we are often--perhaps always--judged on our ability. If you've never improvised before or have but feel your skills are rusty or need improvement, 88 Creative Keys is the perfect place for you because it is a judge-free zone! We hold no expectations, we just want to walk alongside you wherever you may be on your creative journey.
Keep in mind that I, Leila, am a classically trained-to-the-page musician who learned to improvise. I'm a recovering classical pianist--perhaps just like you?
Bradley Sowash is a jazz guru who also speaks the language of traditional piano pedagogy. I know the risks of stepping away from the page.
Both Bradley and our special guest teacher, Debra Perez, understand how to guide "risk takers" in their first steps and beyond.
#5: A Metronome
State-of-the-art technology is integrated into most activities at the workshops. You'll learn how to use and create backing tracks with the latest apps. You'll see how apps can spark creativity In addition, you'll learn how to use the latest Clavinova models to enhance your groove with hip rhythms as you improvise by yourself or in a group.
#6: A Big Marketing Push
Although there are plenty of resources recommended throughout the workshop, guidance is not based around only one certain book, philosophy or methodology. We don't teach a method, we teach creative human beings. We want you to discover what works for you.
#7: A Box
You'll be too busy thinking outside the box with the fresh perspectives offered by Bradley, myself and, Debra Perez to worry about the "traditional" in-the-box frame of mind.
#8: Registration Fee?
Yes, it's possible to attend one of the workshop tracks for free! We are excited to announce our VERY first 88 Creative Keys competition. Entering involves just a few steps:
Improvise your own arrangement of "Twinkle, Twinkle" using the prescribed ingredients...
Create a video of your performance and send it in.
Follow this link for all the details. HURRY, the deadline to enter is May 1, 2016.

WHAT will be there?
Now that you know what's NOT at 88 Creative Keys, here's what you CAN expect at the workshop.
You'll learn to play and teach:
The art of unlocking your creative voice and that of your students
Improvisation using the incredible features of Yamaha's Clavinova
How to's of gig piano playing including chording, improvisation, and stock styles.
Ways to build musical imaginations and composition skills with top apps
Off bench activities to enhance comprehension of theory and rhythm
View our tentative here: SCHEDULE

WHO will be there?
YOU! And, fellow pianists and teachers of various backgrounds who are
Passionate about the piano
Enjoy playing and socializing with other piano people
Interested in exploring unfamiliar and exciting ways to make music
Enthused about an intensive program of learning
Of intermediate technical ability with basic reading skills
Prepared by studying the prerequisites prescribed for each track.
Piano teachers, bring your students! Students, bring your piano teachers! 
I have implemented so many wonderful ideas from the 88 Creative Keys Workshop I attended last year. My studio has gained a great deal of improvement with improvisation, creativity and technology. Thank you for the continuous stream of insight and creativity you share with all of us….you help to keep teachers motivated and fresh. I can't begin to tell you how much I appreciate your hard work and efforts. – Andrea (2014)
Not sure which track is right for you? Bradley covers all your questions clearly and concisely below.
https://www.youtube.com/watch?v=JKSghJppasU
I really do hope we get to make friends at the 88 Creative Keys Keyboard Improvisation Workshop...there's a bench waiting for you!