A Dozen Brilliant Apps for Dazzling Summer Lessons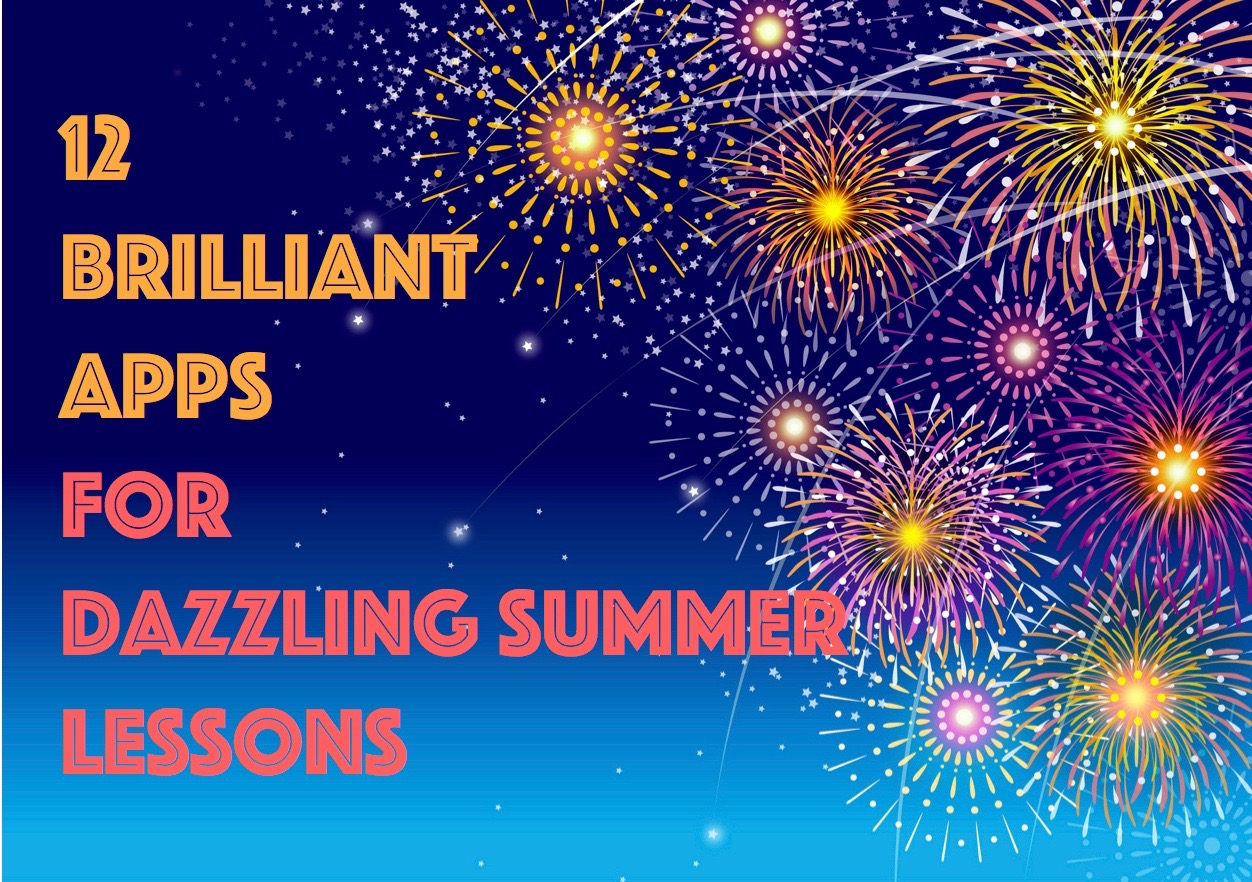 My intention was to supply a list of 10 apps but it expanded to 12, oops! They appear in alphabetical order as I could NEVER choose a favorite.
With access to accompaniment beats for Wendy Steven's Rhythm Cup Explorations, backing tracks to Bradley
Sowash's new book Creative Chords or Daniel McFarlane's Supersonics Piano, it's essential to have an app to organize these playlists. Playlists can be made in iTunes but many times the tempo of backing tracks are just too fast for students to catch the groove. That's when a slowdowner app like Anytune comes in extremely handy. Anytune will slow down ANY tune in your iTunes library without changing the pitch. Want to change the pitch? You can do that too with this app! Learn more about the app from my review. There are many other features including one to create playlists within the app so you can organize all your backing tracks.
Here's my student playing along with McFarlane's "Urban Beat" at a recent recital. He worked up to the original tempo with the help of Anytune.
https://youtu.be/iusac0Pa7ug
Need a method to decide who plays first in a group lesson? Looking for a fun, off-the-bench game to learn music
terms? One of the most popular posts I've ever written features this simple, customizable spinning-wheel app called Decide Now. The article describes how I use the app to play Piano Charades to help students master Italian terms like presto, adagio, etc. You can read it here.
If you want 50 more ways to use the versatile app, then make sure to sign up for my newsletter here and I'll include a link to the resourceful PDF. If you are holding summer camps, this is a MUST-HAVE app!
When your students need some inspiration, there's nothing like unique or rousing performances to spur the
musical soul. YouTube generously offers an unending array of videos. At times it's hard to sort through them all and find appropriate clips. A couple of years ago I designed Get Inspired! Episodes at 88pianokeys.me and have been adding to the series. Some episodes offer PDF's with questions and even downloadable flash cards. All of them provide a brief summary of the artists. Just this past spring a high school senior recital program included Rachmaninoff, Chopin, Debussy and other music of the Classical genre. The graduate also played Radnich's "Pirates of the Caribbean"  as he was inspired by this video featured in Episode 2!
https://youtu.be/n4JD-3-UAzM
A good friend and outstanding iPad (!) piano teacher,
Wendy-Kirby Alexander
, recently told me how much she enjoys teaching with 
HookTheory.com
. Here are her thoughts:
"

HookTheory

is a great resource for students of all ages that are interested in learning pop music.  I have an adult student who has a hard time playing by ear and

HookTheory

has become her favorite resource.  The

HookTheory1

book is a great way to learn about chords and scales and how pop music is constructed.  It has live links so that you can listen to the concept being played on the piano which helps the ear develop.  I have my students read this book first (no matter what level they are) and then start using the

TheoryTab

on the website.  The TheoryTab has hundreds of songs to choose from and students quickly learn about scale degrees and chord function."
https://youtu.be/_rizxwudfU0
Please follow this link to read my recent review of this web-based, ear training application called Meludia. If you follow my
posts, you know I'm a huge fan of apps and particularly those suited for the iPad. Meludia is not an app (yet!) but the stunningly beautiful online program can be played on the iPad as well as the a computer or any tablet. Instead of me going on and on about Meludia and its unique approach to ear training, make sure to see AND hear it for yourself. In addition, invite ALL your students of any age and level to experience it.
Get your free two-week premium version here. Make sure to use this code: ML-AM-LEILA. For pricing details, follow this link.
There are few apps for young beginners that teach and gently guide them along through new concepts. Music Lab Pro sequentially teaches the basics like up, down, higher, lower, louder and softer with the help of some friendly animals and arcade-like games. The app includes options for students to create, too! I was stunned when my young pianist showed me each track he pre-recorded to lay down a groovin' pattern. The interface resembled a kid-friendly Garage Band experience.
https://youtu.be/m7hE31ywWt4
In honor of frogs, summer time and rookie pianists, Susan Paradis has come up with adorably
green worksheets to review finger numbers and keyboard basics. Although you can print them, she's made the PDF's (portable document file) the perfect size to use and annotate on the iPad. Notability is my go-to app for downloading and organizing PDF's. My students enjoy completing the worksheets on the iPad within Notability using a stylus and you can enjoy saving paper. Here's a tutorial on how I use Notability with another PDF download which could be applied to Susan's PDF's as well.
https://youtu.be/I-b-bYyffnY
Which notation program do you recommend to your students? That's a question I hear
frequently. Notion and Symphony Pro are amazing but require an iPad (see below.) Noteflight is a web-based notation program. The intuitive program allows students to set up a free account and because it is accessible online they can easily work on a project at your studio or at home.
FREEBIE ALERT! Noteflight also offers a studio subscription where you can build your own community of composers without the need to use student emails and access all the Noteflight Crescendo features. Learn more about the free Noteflight membership vs the Noteflight Crescendo here.  If you purchase the subscription now, the summer months are free!
FYI: After my students watched this video, they were up and running with the program.
https://youtu.be/R5DI6WPxQm0?list=PL_UgEBX99u55BjIHLdgIuLcLLHJYGqCxv
Is there an iPad app for notating composition? Which one is the best? I hear those questions ALL
the time. Notion is my favorite only because it's the app I purchased first. Symphony Pro is also popular and similar to Notion.  Both apps allow you to enter notes with realtime entry using a MIDI Keyboard and files can be shared with Finale and other notation programs. (Stay tuned for a blog about this topic at 88pianokeys.me!) The video below describes some of the newest features of the Notion 5. It now allows you to "write to picture" with a video window. This is a perfect feature for all those future film score composers sitting on your bench!
https://youtu.be/b6_uKs7nMyA
I deem Piano Maestro my default go-to app. Using the app, students can practice independently
and build reading skills while playing with a steady beat. Can't ask for much more than that! Rumor has it that the developers will be offering a Summer Camp theme as an incentive plan to keep your students playing and progressing during the long summer months. Hopefully they will share details soon!
I teach "Heart and Soul" to every student so they memorize the four chords: I, vi, VI and V. This knowledge helps to unlock the "secret formula" of most pop songs and
 triggers student musical imaginations. That's why Tin Pan Rhythm is right up my alley! It allows users to easily create a four-chord pattern with piano, guitar, bass, drums and percussion. The selection of chords are organized into a pyramid of primary, secondary chords (diatonic) and then color or borrowed chords. Users can see their chord-knowledge put to use in this app but they also do not need to know much about chords in order to create a pleasing instrumental pattern. Patterns can be looped to an infinite number of combinations, recorded and shared. Follow this link for more info and to download the app.
This app has been a HUGE hit with my students of all ages!
https://youtu.be/BnpsXvSKlCY
Fellow savvy colleague Linda Christensen informed me of this hip, new app. After opening Chord
Tracker, you can important any tune in your iTunes library into the app. Push play and as the tune plays, chord symbols of all the chord changes stream by so you can play along. This is a must-have app for your students who are eager to learn their favorite playlist tunes.
Let me correct myself. The list has morphed into a baker's dozen of dazzling apps. iReal Pro is an
app that Bradley Sowash and I could not teach without at our 88 Creative Keys Camp. If you instruct your students to read and play from lead sheets, then you need this app as it generates lead sheets. After desired chords are entered or a chart is downloaded from the global-sized iReal Pro forum you can choose from countless styles. This app is perfect for improving the groove of rookie AND pro improvisers alike.
Here's a past post of how to use this app to enhance your lessons. Here's a throwback video (my very first one EVER) on how I use iReal Pro.
https://youtu.be/Wxgfw7Csh-Y
Join Bradley Sowash and I in Denver, July 6-11 at 88 Creative Keys Camp this summer so you can learn first hand how to use AND teach with these brilliant apps.